Summary
There was a time when malls were thriving communities – agoras, if you will – where people went to sell, shop, eat, unwind, catch up, and hang out.
But then the retail apocalypse happened: an initially slow assault on traditional brick-and-mortar retailers that kept knocking and knocking to break it down little by little.
And then the shutdowns happened, turning that knocking into a pounding that's downright painful to hear.
Looking for a helping hand in the market? Members of iREIT on Alpha get exclusive ideas and guidance to navigate any climate. Get started today »
Remember going to your local mall in the '90s or '00s?
Depending on the season, time of day, and day of the week, the place might not have been packed. But it did more than likely feature shoppers around every corner and in almost every store.
Oh, those good old retail days back before the retail apocalypse…
Walking around the mall, you'd stroll past shops full of people – probably holding your nose if an Abercrombie & Fitch (ANF) was nearby considering the copious amounts of cologne they sprayed.
Sellers in center kiosks would call out to you as you neared them. ("Excuse me! Can I ask you a quick question?) And you'd pretend to look at the Forever 21 apparel in the storefront to your left… even though you never shopped there a day in your life.
Who knows what you were there for in the first place. Maybe cheap but decent footwear from Payless Shoe Source. Perhaps a new pair of jeans from J.C. Penney or a blender from BonTon? You may have even thought about stopping over at Borders across the way on your way home to get a copy of that new novel you heard so much about.
In which case, you'd order one of those coffee shakes they had too. Those things were like mixing java with a splash of heaven… a taste of those good old retail days back before the retail apocalypse.
Department Stores Don't Look Good in the Persistent Retail Apocalypse
Again, there was a time when malls were thriving communities – agoras, if you will – where people went to sell, shop, eat, unwind, catch up, and hang out.
But then the retail apocalypse happened: an initially slow assault on traditional brick-and-mortar retailers that kept knocking and knocking to break it down little by little.
And then the shutdowns happened, turning that knocking into a pounding that's downright painful to hear. Welcome (as it is for some people) or unwelcome (as it for others), there's no ignoring this visitor anymore. Take it from CNBC's Worldwide Exchange show, which included this commentary:
You look at how this category… even prior to the recession was performing. And we already saw trouble in the department store space. There's no denying that. You had… Sears file for bankruptcy. Barneys New York. BonTon. So a number of stores have… gone under over the years. And fast-forward to the pandemic, and I think in many ways, it's just accelerated kind of the demise of this space. Already this year we've seen Neiman Marcus, J.C. Penney, Stage Stores and now most recently Lord & Taylor file for bankruptcy.
In fact, as it also included, Lord & Taylor – America's oldest department store – is liquidating entirely. And as for department stores in general, she doesn't "think the prospects are very bright."
Which is certainly one way to put it.
Where Do Mall REITs Go From Here?
If CNBC is right, that spells intense amounts of doom and gloom for the mall real estate investment trusts (REITs) that hold these department stores.
For starters, those are often their biggest tenants by size, amounting to significant chunks of their annual rental income. Even more concerning, however, is their overall draw.
They're called "anchor stores" for a reason. Their presence gives a legitimacy and stability to the larger buildings, adding appeal to the little stores between them.
Here's more from CNBC:
You look at the space and just the business model at its core. I mean, department stores were… known to be anchors at the mall. They drove traffic. And brands flocked to them to have placement on their shelves. So that's where people would go to discover new things.

… with the rise of Amazon and e-commerce… there's no longer that necessity to go to the department store. You used to get everything there: your furniture, your clothes, your luggage, your electronics for your kitchen.
Now more and more people are just going online… either because they already were, because the shutdowns prompted them into a new normal, or because they're still afraid to go outside too much.
Regardless, that's having an obvious effect on department stores and therefore the landlords who host them.
Worse yet, their closures add a dejected air to the malls they inhabit, making them look rundown. Possibly even dangerous, even if they're still otherwise well maintained and monitored.
Psychological perception can and does make a difference in where shoppers frequent. Don't for a second think otherwise.
Which brings us to the big real estate-related retail apocalypse question: If department stores are dying…
What does that say about mall REITs?
Is J.C. Penney's Part in the Retail Apocalypse Over?
The U.S. is vastly "over stored," with 50 square feet per person. Canada contains only about a third that, and the EU countries feature single digits for retail square feet.
So the elimination of a big piece of retail square footage was going to happen regardless. The virus has simply accelerated it. Possibly one third of retail will be permanently eliminated.
As of this writing, it did seem as if most of the remaining J.C. Penney empire will be preserved – for the time being, at least. On September 9, details were released that mall REITs Simon Property Group (SPG) and Brookfield Property Partners (BPY) had reached an agreement to jointly acquire the business.
While "the transaction still need to be approved by a judge in bankruptcy court… If approved, the deal is expected to preserve the retailer's stores and more than 70,000 jobs," Business Insider reports.
Incidentally, WYCO Researcher, one of my fellow Seeking Alpha writers, had these details to add:
This would be a section 363 sale of assets. It is not a purchase of the J.C. Penney Company – only the assets. JCPNQ shareholders would not be paid for the purchase.
Ouch!
Then again, it was probably that kind of deal or the company would just collapse. Simon and Brookfield obviously aren't in it out of the goodness and kindness of their hearts. They want to make money – and this purchase doesn't come with any guarantees of such.
That's not to say they don't have a good shot at overcoming the issues at hand. Management at both REITs are smart and savvy, and they no doubt have a great game plan to move forward.
But that game plan is going to have to involve significant work.
Playing the New Retail Game
Going forward, brands of all shapes and sizes will need to find ways to market and deliver their products. And many of them are already at it.
Actually, many of them have been setting strong foundations in this regard for years. They saw the headwinds coming long ago.
For instance, Walmart is making major challenges against Amazon, escalating their ongoing war by accelerating online shopping even faster. And Target (TGT), Home Depot (HD), and Lowe's (LOW) have all done very good jobs of integrating online with in-store sales as well.
It's that kind of omnichannel strategy that will define the ultimate retail winners. By this, we mean that companies aren't running their "old-school" and "new-school" business segments as two separate models. Rather, they're designing them to feed off of each other, driving sales regardless.
In the retail sector, these channels include:
Social media
Mobile applications
Video/cable operations
Physical locations at malls, strip centers, pop-up stores, free-standing centers, and outlets.
Omnis means "every" or "all" in Latin. So "omnichannel" suggests that integrating physical and digital impressions can provide the most unified customer experience.
As Tim Mason and Miya Knights, co-authors of Omnichannel Retail: How to Build Winning Stores in a Digital World, explain:
The internet is undeniably the biggest and most relevant recent change in retail because of its impact on the way businesses engage with and serve customers. Where the average business traditionally operated a single, physical sales channel – the store – many now support multiple digital and physical sales and marketing channels, through the store and e-commerce websites and marketplaces to social media networks and traditional advertising media, including print, television, and radio.
The result is "a blended digital retail presence that can seamlessly adapt its offerings and services consistently." Also known as "omnichannel."
So What About Malls?
When it comes to malls specifically, industry legend Ralph Block wrote in his Investing in REITs:
The economics of malls are very different from those of neighborhood shopping centers. Rent payable by the tenant is higher, but so are the sales per square foot. Despite higher rent, a retailer can do very well in a mall because of the high traffic and larger sales potential per store. Due to higher overhead costs, however, stores that don't generate strong sales can quickly flounder. Accordingly, it is crucial that mall owners find and sign leases with the most successful retailers.
That was published in 2012 though. According to Hoya Capital Real Estate this year (on June 9, to be exact):
Retail sales data for April showed a record plunge as the pandemic-related shutdowns wreaked havoc on the sector. Sales plunged 16.4% in April – worse than the 12.3% predicted – and followed March's 5.7% decline, which was previously the worst month on record.
That crash was especially staggering in certain categories, including a 79% drop in clothing sales and a 61% dip in electronics.
(Can we get another "Ouch!"?)
Then on August 18, he wrote "Mall REITs: Shop Till You Drop" with these bullet points:
From bad to worse. Entering 2020 on already unstable footing following a tsunami of store closings over the past half-decade, mall REITs have been punished by the ongoing coronavirus pandemic.

Mall REITs have plunged nearly 50% so far in 2020. Absent a miracle, mall REITs are likely to underperform the REIT average for the fifth straight year in 2020.

Rent collection averaged less than 50% in the second quarter. Same-store NOI dipped roughly 30% in Q2, while FFO per share has plunged a mind-numbing 45% through the first half of 2020.
So… again… where do they go from here?
Dividend Cuts-A-Plenty
This time last year, many high-yield investors were bullish in the mall REIT sector. And, yes, we're still long on Tanger (SKT). And no, we didn't see the shutdowns coming. But we still recognized that there was enhanced potential for dividend cuts.
So far, every mall REIT other than Brookfield (BPYU) has cut or eliminated its dividend since the start of 2020. With good reason too.
We're now officially playing a not-so-little game with not-so-little stakes called Survival of the Fittest. As of the end of July, Nareit was reporting that four mall REITs were operating with disconcerting debt ratios…
They were above 85%.
Notably, six of the eight mall REITs offer preferred securities, which we follow in our new iREIT Preferred REIT & Bond Tracker. These include:
And every one of them have underperformed compared to even their matching common stock… by an average of 7% as of mid-last month. CBL's have even been suspended, with a very good chance of others following in their footsteps.
Here's another quote from Hoya:
All eight mall REITs withdrew full-year guidance amid the pandemic, which had initially forecast an average same-store NOI increase of 0.8%... We expect FFO growth to decline between 15% and 30% in 2020 on a simple-average basis, down from initial guidance of -12.9%.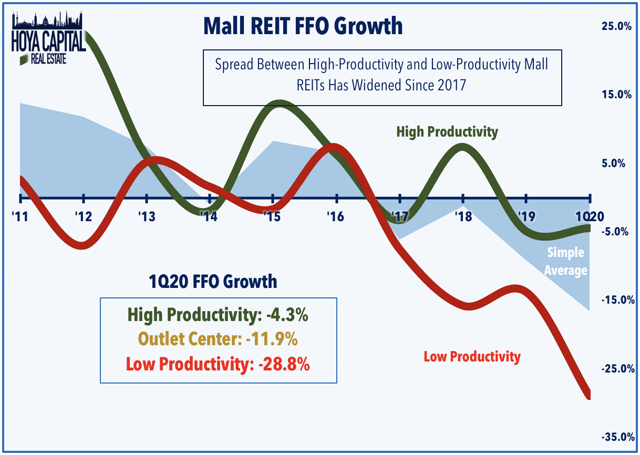 Is there any point to buying any of these companies whatsoever at this point?
A Diamond in the Rough?
Yesterday I reported on Tiffany & Co. (TIF) and the news that LVMH was backing out of the deal to acquire the crown jewel enterprise due to "trade uncertainty". The proposed $16.2 billion deal ($135/share) has now stalled out as TIF filed a lawsuit to enforce the acquisition, and we believe this will lead to another potential buyer.
Simon maybe?
Just kidding. As mentioned, Simon has its hands full right now, as it defends the Taubman (TCO.PK) lawsuit and it attempts to integrate its new retail collection, and quite possibly JC Penney (we'll know in a few weeks I guess).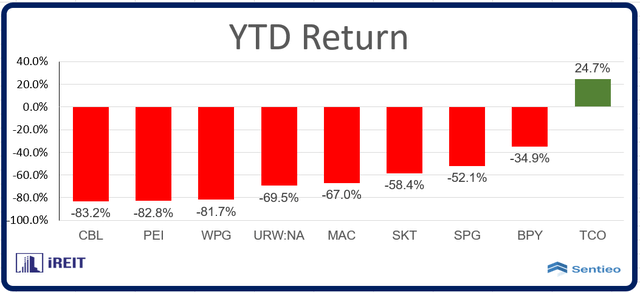 With so many bargains floating around, what does an investor do in the mall REIT sector?
As previously mentioned, there have been dividend-cuts-a-plenty and the chase for yield has subsided (so much for the high yield articles).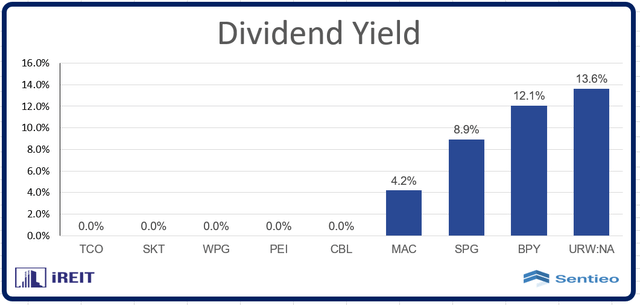 And the analyst forecast (below) suggests a lot redder ink in 2020 and 2021, although the 2021 consensus growth for Brookfield is bullish (hence the reason we have maintained a Spec Buy).

So, what is the new norm, in terms of valuation?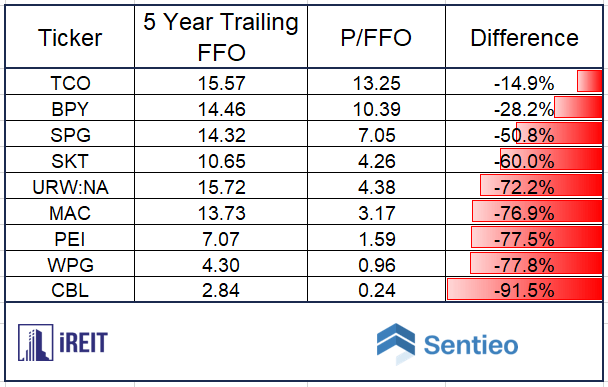 If I had the answer to that question, I would be sitting on my own private island right now.
Currently we have just three buys in the sector, and all are speculative: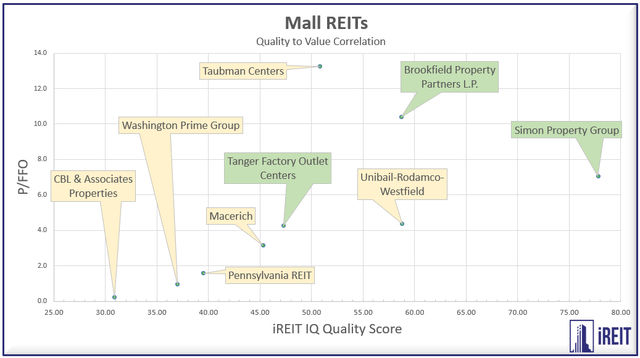 (This chart utilizes our all-new iREIT IQ scoring model)
The fact of the matter is that nobody really knows what a mall is worth these days, and Mr. Market certainly doesn't have a clue. I'm somewhat perplexed as to why anyone would want to invest in a JC Penney REIT, and I can assure you that I won't be standing in line for shares.
Nonetheless, the mall meltdown is real and it's not getting better any time soon.
Author's note: Brad Thomas is a Wall Street writer, which means he's not always right with his predictions or recommendations. Since that also applies to his grammar, please excuse any typos you may find. Also, this article is free: Written and distributed only to assist in research while providing a forum for second-level thinking.
At iREIT, we're committed to assisting investors navigate the REIT sector. As part of this commitment, we are launching our newest quality scoring tool called iREIT IQ. This automated model can be used for comparing the "moats" for over 150 equity REITs and screening based upon all traditional valuation metrics.
Disclosure: I am/we are long SKT, SPG, BPYU. I wrote this article myself, and it expresses my own opinions. I am not receiving compensation for it (other than from Seeking Alpha). I have no business relationship with any company whose stock is mentioned in this article.
Editor's Note: This article covers one or more microcap stocks. Please be aware of the risks associated with these stocks.