Newspapers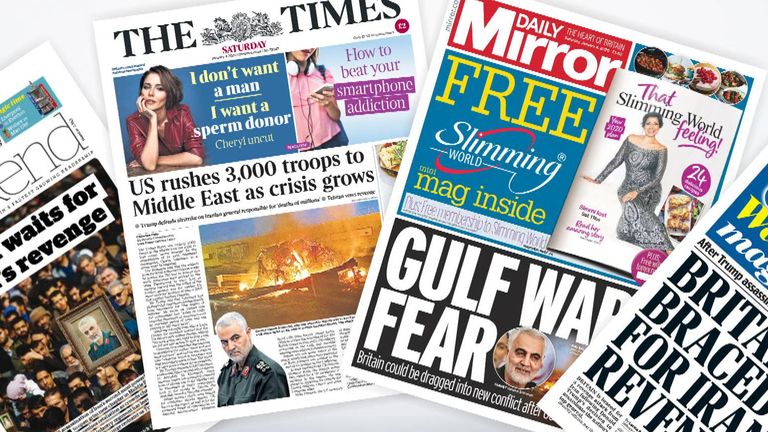 17:33


The world waits for Iran's revenge, the i Weekend says, as the assassination of Iranian military general Qassem Soleimani sparks fears of war in the Middle East.

17:21


The Middle East is braced for a new conflict, The Guardian reports, after the US killing of Iranian general Qassem Soleimani.

17:00


The Daily Star reports on words from 007 actor George Lazenby, which have caused a "sexism storm".

16:56


The Daily Mail says Britain is "braced for revenge" after the US assassination of an Iranian general, adding that UK citizens in the Gulf could be at risk.

16:54


Some 3,000 US troops are being rushed to the Middle East amid security concerns in the region - that's the front of The Times.

16:52


Diplomats fear that the assassination of Iranian security official Qassem Soleimani could lead to war, The Independent reports.

16:50


The FT Weekend leads with Tehran's promise of "tough revenge" after the US killed senior military commander Qassem Soleimani in Iraq on Friday.