A Mexican cartel gun battle near the Texas border leaves 21 dead

The attack comes days after President Trump announced he wants to label Mexican drug cartels as terrorist organizations.

By Catherine Kimcatkim0525@gmail.com
2:01pm EST


At least 21 people have died due to a battle between Mexican police officers and cartel gunmen, just days after President Donald Trump said that he planned on labeling Mexican drug cartels as terrorists.

Armed gunmen stormed Villa Union, a town near the Texas border with Coahuila state, on Saturday and attacked local government offices, including that of the mayor. Security forces responded, and 10 gunmen and four policemen were killed during the resulting shootout in the village. Seven additional cartel members were killed by security forces after the attackers fled.

The attack will likely fuel Trump's argument for categorizing drug cartels as "foreign terrorist organizations," just as groups like al-Qaeda, ISIS, and Boko Haram are classified. He has a history of seeing drug cartels as a major threat, and he often cites the cartels in stump speeches when speaking about the need to build a wall on the US-Mexico border. Trump's latest position on the cartels, however, has alarmed a number of experts because it could give the president license to use US military force against the groups without authorization from the Mexican government.

Mexican President Andres Manuel Lopez Obrador has made it clear that he will not allow foreign intervention, and has offered to increase cooperation with the US on fighting drug gangs instead, according to Al Jazeera. His government already works with the US intelligence community and drug and law enforcement officials from the State Department to combat cartel violence.

"Since 1914, there hasn't been a foreign intervention in Mexico and we cannot permit that," Lopez Obrador said at a regular news conference on Friday. "Armed foreigners cannot intervene in our territory."

Things, however, aren't looking great for Lopez Obrador, who was elected into office in 2018 in part on a platform of cracking down on cartels. Murders are at a record high rate, according to the Los Angeles Times: there have been 29,414 homicides so far this year in comparison to 28,869 in the same period of 2018 — which was already considered an all-time high.

Attorney General William Barr is supposed to visit Mexico next week to discuss joint security efforts. With these numbers, Trump's plan, and the most recent gun battle in Villa Union fresh in everyone's memory, all eyes are on what will come out of his meeting with Mexican officials.
today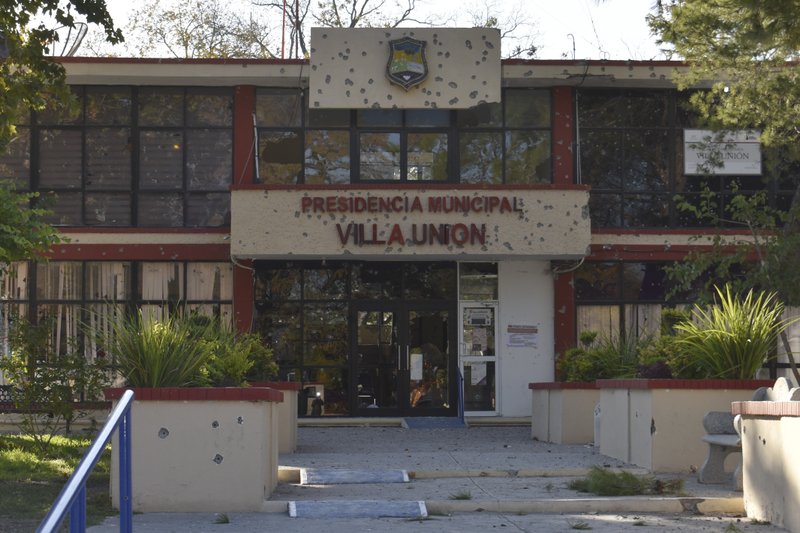 The city hall of Villa Union, Mexico riddled with bullet holes following an attack by a drug cartel. Gerardo Sanchez/AP Photo
MEXICO CITY (AP) — Mexican security forces fought an hour-long gun gunbattle Saturday with suspected cartel gunmen in Villa Union, a town in Coahuila state about an hour's drive southwest of Eagle Pass, Texas, leaving at least 14 people dead, officials said.

Coahuila state Gov. Miguel Angel Riquelme told local media four of the dead were police officers killed in the initial confrontation, and that several municipal workers were missing.

He said the armed group stormed the town of 3,000 residents in a convoy of trucks, attacking local government offices and prompting state and federal forces to intervene. Ten alleged members of the Cartel of the Northeast were killed in the response.

Videos of the shootout posted on social media showed burned out vehicles and the facade of Villa Union's municipal office riddled with bullets. Rapid gunfire could be heard in videos along with frantic people telling loved ones to stay indoors. A damaged black pickup truck with the C.D.N. of the Cartel del Noreste, or Cartel of the Northeast, written in white on its door is seen on the street.

Security forces will remain in the town for several days to restore a sense of calm, the governor said.

"These groups won't be allowed to enter state territory," the government of Coahuila said in a statement.

Mexico's murder rate has increased to historically high levels, inching up by 2% in the first 10 months of the presidency of Andrés Manuel López Obrador. Federal officials said recently that there have been 29,414 homicides so far in 2019, compared to 28,869 in the same period of 2018.

The November slaughter by Mexican drug cartel gunmen of three women who held U.S. citizenship and six of their children focused world attention on the rising violence.