Pentagon officials say American forces still at risk inside Syria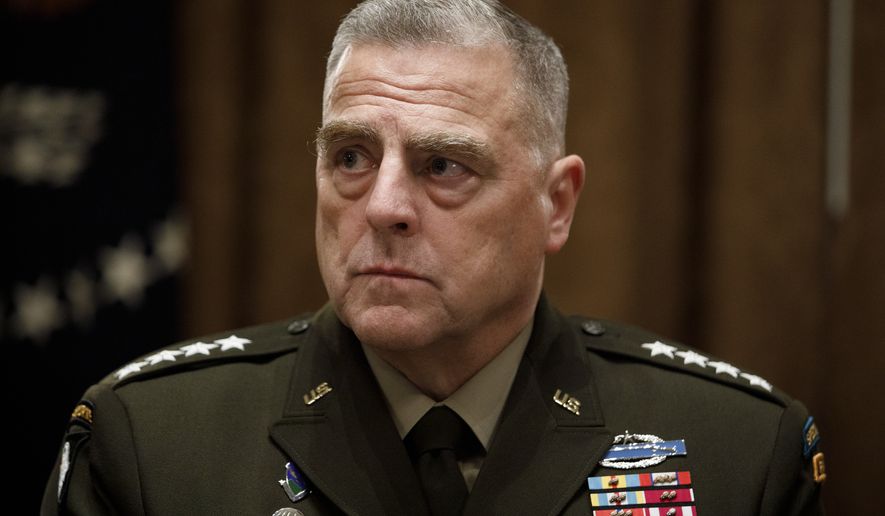 Chairman of the Joint Chiefs of Staff Gen. Mark Milley, participates in a briefing with President Donald Trump and senior military leaders in the Cabinet Room at the White House in Washington, Monday, Oct. 7, 2019. (AP Photo/Carolyn Kaster)
Top U.S. military officials on Friday warned Turkey that U.S. forces in Syria "retain the right of self-defense" amid fears that American personnel is still in danger despite the withdrawal of special operations troops from the most dangerous areas along the Turkey-Syria border.

In a hastily arranged press conference at the Pentagon, Joint Chiefs of Staff Chairman Gen. Mark Milley told reporters that he has personally ensured Turkey has "explicit grid coordinate detail" of the location of all 1,000 U.S. troops stationed in Syria.

"We have been in coordination with them," he said. "Everyone is fully aware that we are the United States military. We retain the right of self-defense. Our soldiers, sailors, airmen and Marines will defend themselves. That's clear and it's unambiguous with anybody."

Mr. Milley's sharp comments come just hours after Defense Secretary Mark Esper warned that American troops in Syria could still be in danger.

In a Thursday phone call with Turkish Defense Minister Hulusi Akar, Mr. Esper warned of "serious consequences" for Ankara if military action continues. The secretary also said that despite President Trump's decision to pull American special forces from the area, U.S. personnel could still be in harm's way.

"Secretary Esper made it clear that the United States opposes Turkey's uncoordinated actions as they place at risk the progress made by the Defeat-ISIS Coalition," Pentagon spokesman Jonathan R. Hoffman said in a statement detailing the call. "While the secretary reaffirmed we value our strategic bilateral relationship, this incursion risks serious consequences for Turkey. The secretary also reiterated his strong concern that, despite U.S. force protection measures, Turkey's actions could harm U.S. personnel in Syria."

Mr. Trump announced Sunday that about 50 American special forces would exit a key buffer zone along the Turkey-Syria border. Days later, Turkey launched a military assault against U.S.-backed Kurdish forces in northern Syria.

The Kurdish-led Syrian Democratic Forces are a key American ally in the fight against the Islamic State, but Turkey considers elements of the group to be terrorists.

U.S. military officials say they're in close consultation with their Turkish counterparts but that so far there are no indications that Ankara is taking its foot off the gas.

"I have no indication they are willing to stop," Mr. Esper told reporters Friday.