By
Wed October 16, 2019

Washington (CNN)Congressional Democratic leaders offered a remarkable readout of a meeting with President Donald Trump on Wednesday, saying that the President called House Speaker Nancy Pelosi a "third-rate politician" in what they described as a "meltdown."
"He was insulting, particularly to the speaker. She kept her cool completely, but he called her a
third-rate politician,"(actually a compliment)
Schmuckie Chuckie Schumer
told reporters, describing the interaction. "This was not a dialogue, it was sort of a diatribe. A nasty diatribe, not focused on the facts."
Pelosi added, "What we witnessed on the part of the President was a meltdown, sad to say."
The Democratic leaders were at the White House for a meeting on Syria, which came shortly after the House overwhelmingly passed a bipartisan vote on a resolution opposing the Trump administration's troop withdrawal.
Speaking to reporters after the meeting, the top congressional Democrats said that they walked out. Schumer said they did so "when he started calling Speaker Pelosi a third-rate politician."
Pelosi later said that Trump had actually referred to her as a "third-grade politician."
Tensions between congressional Democrats and the White House have escalated sharply as Democrats pursue an impeachment investigation into Trump over his contacts with Ukraine and have conducted a steady stream of closed door depositions this weeks as part of the inquiry.
Pelosi said that she believes Trump was "very shaken up" by the Syria resolution vote and said that the impeachment inquiry did not come up during the conversation with the President.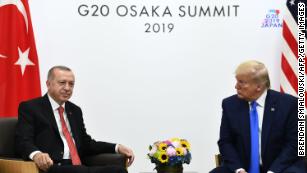 'Don't be a tough guy. Don't be a fool!': Read Trump's letter to Turkish President
House Majority Leader Steny Hoyer, a Democrat from Maryland, said that Democrats "were offended deeply by his (the President's) treatment of the Speaker of the House of Representatives."
White House press secretary Stephanie Grisham described the meeting differently, saying in a statement that Trump was "measured" and "decisive" and that Pelosi "had no intention of listening."
"The President was measured, factual and decisive, while Speaker Pelosi's decision to walk out was baffling, but not surprising," Grisham said. "She had no intention of listening or contributing to an important meeting on national security issues. While Democratic leadership chose to storm out and get in front of the cameras to whine, everyone else in the meeting chose to stay in the room and work on behalf of this country."
House GOP leader Kevin McCarthy, who was also at the meeting, called it "productive" and said that Trump made clear that his main priority is to "make sure America is safe." The California Republican criticized Pelosi's decision to leave, saying that the House speaker opted to politicize the event.
"Unfortunately, the speaker tries to make everything political. Her own statements weren't productive," McCarthy said. "To storm out of the meeting, which I've watched time before during other crises, is really not the ability, or the style of how a speaker should carry herself."
This isn't the first time that a meeting between congressional Democrats and the President has ended dramatically.
In January, the President walked out of discussions to end a partial government shutdown, calling talks with congressional Democrats "a total waste of time."
Hoyer said that the meeting "deteriorated" and that there were "very offensive accusations being made by the President of the United States."
"I have served with six Presidents. I have been in many, many, many meetings like this," he said. "Never have I seen a president treat so disrespectfully a co-equal branch of the government of the United States."
In an interview with CNN's Wolf Blitzer on "The Situation Room" later Wednesday, Rep. Jackie Speier said she thinks Congress should censure the President for his behavior.
"He creates an environment that our adversaries can look at this country and say it's ripe for the picking. He's placing our national security at risk," the California Democrat said.
She added, "I'm deeply troubled by that and very concerned that those who want to do ill towards our country are looking at opportunities to do it here."
This story has been updated with additional developments Wednesday.

CNN's Chelsey Cox and Eli Watkins contributed to this report.