Chad Mills
May 11, 2019 Updated 12 hrs ago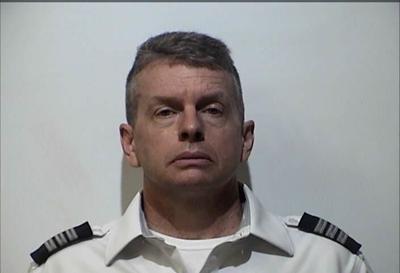 Christian Richard Martin (Image source: Christian County Detention Center)

"It was like something you would totally see in a movie," said Ashley Martin of Elizabethtown, who's of no relation to the suspect.

Martin and her mother, Frances Wise, are in Charlotte now, but Saturday morning, they were at the airport awaiting to board American Airlines Flight 5523 from Louisville to Charlotte when the arrest happened.

"It was very tense," Wise said. "I think it was very tense. You could tell the employees knew something was going on."

When they first heard word their pilot had been arrested, both assumed he was intoxicated on the job. Later in the day, they learned the actual reason Martin is now locked up.

"Oh my gosh," Wise remembers saying at the time.

Officials say Martin was indicted Friday by a grand jury in the deaths of Calvin Phillips, his wife Pamela and Edward Dansereau. According to authorities, on or around Nov. 18, 2015, Calvin Phillips was found shot to death in his home in Pembroke, Kentucky. Pamela Phillips and Dansereau were found a few miles away in a corn field inside Pamela Phillips' car, which was burned. Pembroke is not far from the Kentucky-Tennessee border.

American Airlines confirmed to WDRB Saturday afternoon that Martin has been a Bombardier CRJ First Officer for PSA Airlines since January 2018. PSA Airlines is a wholly-owned subsidiary of American Airlines and operates an all-jet American Eagle fleet.

"All of us at American Airlines and PSA Airlines are deeply saddened to have learned about these allegations from 2015. Our team was made aware of the indictment this morning after his arrest at Louisville International Airport. We have an unwavering commitment to the safety and security of our customers and team members, and we will provide any investigative assistance possible to law enforcement throughout their investigation," an American Airlines Spokesperson told WDRB.

Martin has been placed on administrative suspension pending the outcome of the investigation.

"It's startling," said passenger Ashley Martin. "It's scary to think this happened so long ago, and they're just now getting around to catching the guy."

"We're inconvenienced a lot," added her mother, Wise. "Like missed an entire day of a vacation that's been planned and saved for for an entire year."

As the mother and daughter wait for a new flight to their final destination, St. Lucia, both say they're still digesting a morning of chaos.

"I was definitely stressed," the daughter said. "I felt like it was a little chaotic and unorganized. The workers ... you could tell they were stressed. You could feel that energy. You could feel the tension from flight attendants."

The suspect, Christian Martin, was indicted on three counts of murder, one count of arson, one count of attempted arson, first-degree burglary and three counts of tampering with physical evidence.

Following the murders, authorities say Martin moved from Christian County to North Carolina, where he had been living at the time he was indicted.

Martin is being held at the Christian County Detention Center.

According to Fox 17 Nashville, Martin was a person of interest when the death investigation began back in 2015.
Copyright 2019 WDRB Media. All rights reserved.