Rondoids does not own the copyright to certain media posted within.Disclaimer Viewable on main page.
German scientist discovers X-rays 1895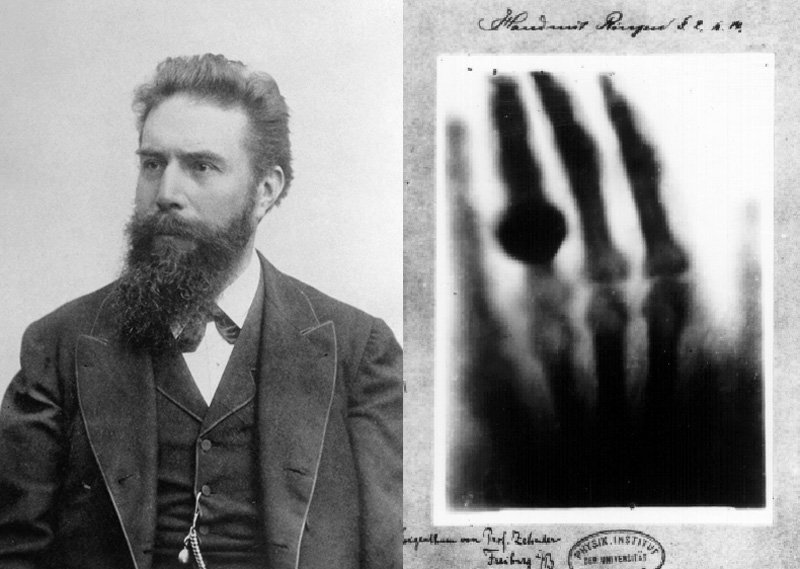 On this day in 1895, physicist Wilhelm Conrad Rontgen (1845-1923) becomes the first person to observe X-rays, a significant scientific advancement that would ultimately benefit a variety of fields, most of all medicine, by making the invisible visible. Rontgen's discovery occurred accidentally in his Wurzburg, Germany, lab, where he was testing whether cathode rays could pass through glass when he noticed a glow coming from a nearby chemically coated screen. He dubbed the rays that caused this glow X-rays because of their unknown nature.
X-rays are electromagnetic energy waves that act similarly to light rays, but at wavelengths approximately 1,000 times shorter than those of light. Rontgen holed up in his lab and conducted a series of experiments to better understand his discovery. He learned that X-rays penetrate human flesh but not higher-density substances such as bone or lead and that they can be photographed.
Rontgen's discovery was labeled a medical miracle and X-rays soon became an important diagnostic tool in medicine, allowing doctors to see inside the human body for the first time without surgery. In 1897, X-rays were first used on a military battlefield, during the Balkan War, to find bullets and broken bones inside patients.
Scientists were quick to realize the benefits of X-rays, but slower to comprehend the harmful effects of radiation. Initially, it was believed X-rays passed through flesh as harmlessly as light. However, within several years, researchers began to report cases of burns and skin damage after exposure to X-rays, and in 1904, Thomas Edison's assistant, Clarence Dally, who had worked extensively with X-rays, died of skin cancer. Dally's death caused some scientists to begin taking the risks of radiation more seriously, but they still weren't fully understood. During the 1930s, 40s and 50s, in fact, many American shoe stores featured shoe-fitting fluoroscopes that used to X-rays to enable customers to see the bones in their feet; it wasn't until the 1950s that this practice was determined to be risky business. Wilhelm Rontgen received numerous accolades for his work, including the first Nobel Prize in physics in 1901, yet he remained modest and never tried to patent his discovery. Today, X-ray technology is widely used in medicine, material analysis and devices such as airport security scanners.
(More Events on This Day in History)
GENERAL INTEREST
1923
Beer Hall Putsch begins
Adolf Hitler, president of the far-right Nazi Party, launches the Beer Hall Putsch, his first attempt at seizing control of the German government.After World War I, the victorious allies demanded billions of dollars in war reparations from Germany. Efforts by Germany's democratic ...
MUSIC
1994
Salvatore "Sonny" Bono is elected to the U.S. Congress
If you had made a friendly wager back in 1974 as to which recent or current pop-music figure might go on to serve in the United States Congress in 20 years' time, you might have picked someone with an apparent political agenda, like Joan Baez, or at least one who was associated ...
GENERAL INTEREST
1994
The Republican Revolution
For the first time in 40 years, the Republican Party wins control of both the U.S. House of Representatives and the Senate in midterm congressional elections. Led by Representative Newt Gingrich of Georgia, who subsequently replaced Democrat Tom Foley of Washington as speaker of ...
VIETNAM WAR
1965
Lawrence Joel earns Medal of Honor
For action this day in the Iron Triangle northwest of Saigon, Specialist Five Lawrence Joel, a medic with the 1st Battalion, 503rd Airborne Infantry, 173rd Airborne Brigade earns the Medal of Honor, becoming the first living African American since the Spanish-American War to ...
SPORTS
1951
Yogi Berra is the AL MVP
On November 8, 1951, Yankees catcher Yogi Berra is voted the American League's most valuable player for the first time in his career. St. Louis Browns' ace pitcher and slugger Ned Garver almost won the award–in fact, a representative from the Baseball Writers Association of ...
PRESIDENTIAL
1942
FDR broadcasts message to Vichy France leader Marshal Petain
On this day in 1942, just as the Allies were preparing an invasion of North Africa during World War II, President Franklin Roosevelt broadcasts a message directed at Vichy France and its leader Marshal Petain. Petain, who chose to collaborate with the Germans in 1940 rather than ...