Rondoids does not own the copyright to certain media posted within.Disclaimer Viewable on main page.
King triumphs in Battle of Sexes 1973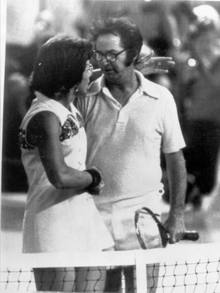 On this day in 1973, in a highly publicized "Battle of the Sexes" tennis match, top women's player Billie Jean King, 29, beats Bobby Riggs, 55, a former No. 1 ranked men's player. Riggs (1918-1995), a self-proclaimed male chauvinist, had boasted that women were inferior, that they couldn't handle the pressure of the game and that even at his age he could beat any female player. The match was a huge media event, witnessed in person by over 30,000 spectators at the Houston Astrodome and by another 50 million TV viewers worldwide. King made a Cleopatra-style entrance on a gold litter carried by men dressed as ancient slaves, while Riggs arrived in a rickshaw pulled by female models. Legendary sportscaster Howard Cosell called the match, in which King beat Riggs 6-4, 6-3, 6-3. King's achievement not only helped legitimize women's professional tennis and female athletes, but it was seen as a victory for women's rights in general.
King was born Billie Jean Moffitt on November 22, 1943, in Long Beach, California. Growing up, she was a star softball player before her parents encouraged her to try tennis, which was considered more ladylike. She excelled at the sport and in 1961, at age 17, during her first outing to Wimbledon, she won the women's doubles title. King would rack up a total of 20 Wimbledon victories, in singles, doubles and mixed doubles, over the course of her trailblazing career. In 1971, she became the first female athlete to earn more than $100,000 in prize money in a single season. However, significant pay disparities still existed between men and women athletes and King lobbied hard for change. In 1973, the U.S. Open became the first major tennis tournament to hand out the same amount of prize money to winners of both sexes.
In 1972, King became the first woman to be chosen Sports Illustrated's"Sportsperson of the Year" and in 1973, she became the first president of the Women's Tennis Association. King also established a sports foundation and magazine for women and a team tennis league. In 1974, as a coach of the Philadelphia Freedoms, one of the teams in the league, she became the first woman to head up a professional co-ed team.
The "mother of modern sports" retired from tennis with 39 Grand Slam career titles. She remained active as a coach, commentator and advocate for women's sports and other causes. In 2006, the USTA National Tennis Center, home of the U.S. Open, was renamed in King's honor. During the dedication ceremony, tennis great John McEnroe called King "the single most important person in the history of women's sports."
(More Events on This Day in History)
CRIME
2012
Amish convicted in beard cutting attacks
On this day in 2012, 16 members of a dissident Amish group in Ohio are convicted of federal hate crimes and conspiracy for forcibly cutting the beards and hair of fellow Amish with whom they had religious differences. The government classified the ruthless attacks as hate crimes ...
GENERAL INTEREST
1519
Magellan sets out
Portuguese navigator Ferdinand Magellan sets sail from Spain in an effort to find a western sea route to the rich Spice Islands of Indonesia. In command of five ships and 270 men, Magellan sailed to West Africa and then to Brazil, where he searched the South American coast for a ...
GENERAL INTEREST
1565
First European battle on American soil
Spanish forces under Pedro Menéndez de Avilés capture the French Huguenot settlement of Fort Caroline, near present-day Jacksonville, Florida. The French, commanded by Rene Goulaine de Laudonniere, lost 135 men in the first instance of colonial warfare between European powers in ...read more
GENERAL INTEREST
1946
First Cannes Film Festival
The first annual Cannes Film Festival opens at the resort city of Cannes on the French Riviera. The festival had intended to make its debut in September 1939, but the outbreak of World War II forced the cancellation of the inaugural Cannes.The world's first annual international ...
AUTOMOTIVE
1960
Mickey Thompson tries again to become the fastest driver in history
On this day in 1960, California hot rodder Mickey Thompson takes another shot at the world land-speed record. A few weeks earlier, Thompson had become the first American to travel faster than 400 mph on land when he'd piloted his Challenger I (a car that he designed and built ...
VIETNAM WAR
1972
U.S. planes mine waters in northern Quang Tri
The USAF reveals that U.S. planes have been mining the coastal rivers and canals of northern Quang Tri province below the DMZ, the first mining of waterways within South Vietnam. This was an attempt to impede further reinforcement of North Vietnamese forces in the area and to ...