Rondoids does not own the copyright to certain media posted within.Disclaimer
Viewable on main page.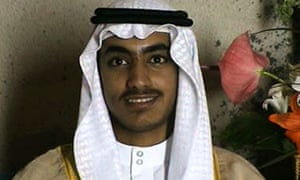 Hamza bin Laden has married daughter of lead 9/11 hijacker, say family

Exclusive: union confirmed by Osama bin Laden's family during interview with the Guardian
Western intelligence agencies have been increasingly focusing on the whereabouts of Hamza bin Laden. Photograph: AP

Hamza bin Laden, the son of the late al-Qaida leader, has married the daughter of Mohammed Atta, the lead hijacker in the 9/11 terror attacks, according to his family.


The union was confirmed by Osama bin Laden's half-brothers during an interview with the Guardian. Ahmad and Hassan al-Attas said they believed Hamza had taken a senior position within al-Qaida and was aiming to avenge the death of his father, shot dead during a US military raid in Pakistan seven years ago.


Hamza bin Laden is the son of one of Osama bin Laden's three surviving wives, Khairiah Sabar, who was living with her husband in a compound in Abbottabad, near a large Pakistani military base, when he was killed. He has since made public statements urging followers to wage war on Washington, London, Paris and Tel Aviv and is seen as a deputy to the terrorist group's current leader, Ayman al-Zawahiri.