Summary
Tech giant planning $1 billion content investment.
One analyst thinks this isn't an initial move against Netflix.
Can Apple shift the streaming music wars in its favor?
There's been a lot of discussion in the past week over the news that Apple (AAPL) is planning to spend $1 billion next year to acquire and produce original content. Many articles, especially ones on this site, have talked about this being an effort to take on streaming giant Netflix (NFLX), which is expected to top 100 million paid subscribers during this quarter. However, one prominent tech analyst thinks the initial move is one that's aimed at streaming music giant Spotify (MUSIC) instead.
RBC analyst Amit Daryanani recently talked about this toe in the water move, considering the $1 billion amount is a small fraction of Apple's $150 billion plus net cash balance ($261 billion cash and $108 billion debt). With Netflix spending more than five times this amount per year on content, and several others like Amazon (AMZN) competing in the space, it's a crowded market.
While the $1 billion is small for Apple, Daryanani writes, it's enough to create 10 shows the scale of Game of Thrones, assuming Apple can execute properly. He does think the addition of two Sony bigwigs will certainly help create a few hits. So why does he think that the move is more geared towards Spotify? Well, take a look at the following part of his argument:
Apple has made the somewhat puzzling decision to house its original content within Apple Music, its subscription music service, because it wants to give users a reason to choose its service over market-leader Spotify. That service was years ahead of Apple in terms of offering an on-demand listening, and many iPhone-wielding Spotify users haven't found reason to switch to Apple Music.
In the article talking about the analyst's view, he says that with Spotify at 50 million paid subscribers, Apple would only need another 7 or 8 million on its platform to recoup its $1 billion investment in content spending (over three years). However, the figure is likely a bit higher given Spotify's passing of 60 million subs, as seen in the chart below. At the moment, Apple has about half as many paid subs.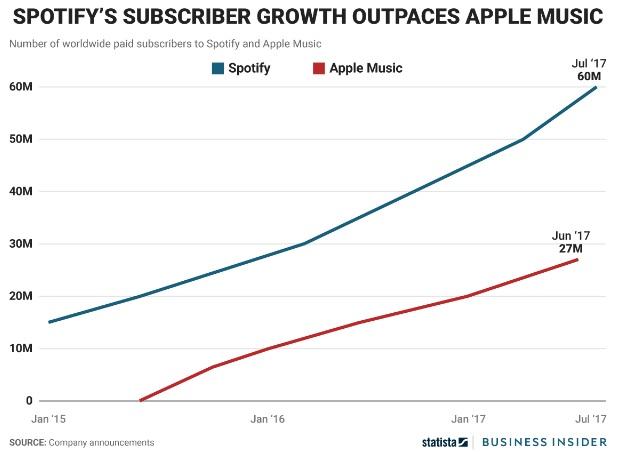 (Source: Business Insider article, seen here)
At roughly $10 per month, the 27 million subscribers cited above for Apple equals about $3.24 billion a year in revenues. While that's relatively small for the company overall, it's a key part of the company's goal to double its service revenues in the next roughly four years. In the most recently reported quarter, Apple services revenue rose 22% year over year, and is currently headed toward a $30 billion trailing12-month pace.
Making the original content part of the Music portfolio seems logical if you want to take on Spotify. In fact, one analyst at MKM recently detailed how Spotify built up 20 million paid subscribers in the past year, faster than Netflix did in the streaming video space. Spotify, which is expected to go public as soon as this fall, could be worth $35 billion in 2021 if its growth trajectory continues, with $1.7 billion in net profits by 2022. With Apple shares heading for a trillion dollar valuation, it certainly would help if the Music business itself was worth tens of billions.
So while everyone is looking at Apple's billion-dollar move into original content as a shot across Netflix's bow, perhaps we should be looking at Spotify instead, at least in the short term. With Apple Music having half the amount of paid subscribers as its streaming music rival, the tech giant may try to close the gap with Spotify first, and if the move is successful, then we'll see a larger budget to take on the likes of Netflix and Amazon. Either way, Apple is trying to bolster its services offering, a segment of the business currently showing the most consistent growth. As seen below, it's enough to that the segment would be in the Fortune 100 if it was independent.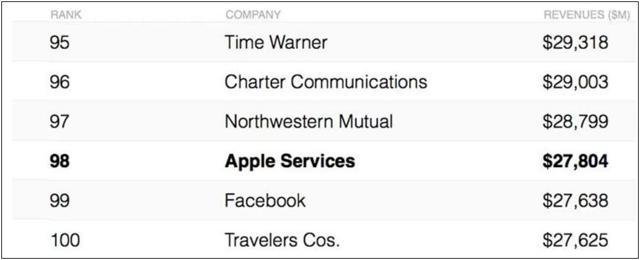 (Source: PED article via Tim Cook comments)
Who do you think the real target is in the short term? I look forward to your comments in the section below.
Disclosure: I/we have no positions in any stocks mentioned, and no plans to initiate any positions within the next 72 hours.
I wrote this article myself, and it expresses my own opinions. I am not receiving compensation for it (other than from Seeking Alpha). I have no business relationship with any company whose stock is mentioned in this article.
Additional disclosure:

Investors are always reminded that before making any investment, you should do your own proper due diligence on any name directly or indirectly mentioned in this article. Investors should also consider seeking advice from a broker or financial adviser before making any investment decisions. Any material in this article should be considered general information, and not relied on as a formal investment recommendation.