Rondoids does not own the copyright to certain media posted within.Disclaimer Viewable on main page.
By Conor Finneg
Sep 30, 2017, 12:34 PM ET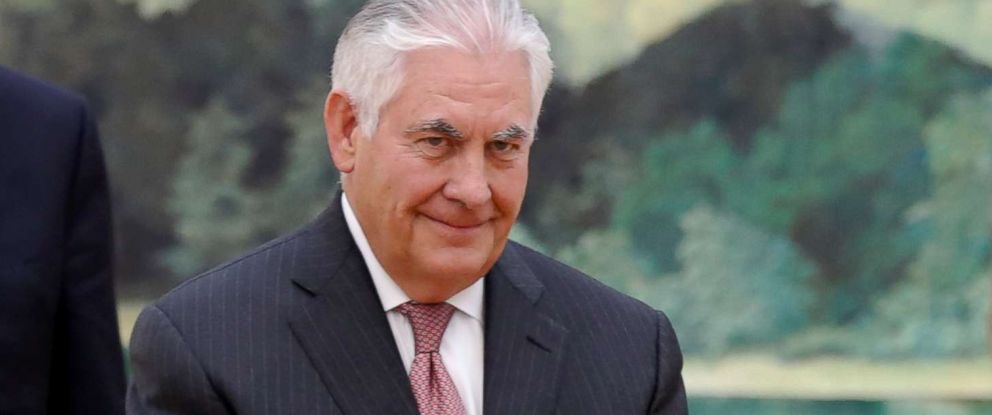 Andy Wong/Reuters
Secretary of State Rex Tillerson looks on as Chinese President Xi Jinping walks to his seat during a meeting at the Great Hall of the People in Beijing, Sept. 30, 2017.

The Trump administration confirmed Saturday for the first time that it is in direct communication with North Korea's government over its government's escalating missile and nuclear programs.

U.S. Secretary of State Rex Tillerson, speaking off-camera with reporters during his trip to China's capital, acknowledged that the administration is speaking to North Korea "directly, through our own channels."

"We have lines of communication to Pyongyang. We're not in a dark situation, a blackout," he said from the residence of the U.S. ambassador in Beijing. "We can talk to them. We do talk to them."

Tillerson said the Trump administration has "three channels" open with the regime of North Korean leader Kim Jong Un.

The top U.S. diplomat also said that broad sanctions against North Korea over its nuclear program "are beginning to have an effect."

"We are seeing from what we can observe, and the Chinese are telling us, that it is having some effect, and [the Chinese] have a pretty close view of it," Tillerson said. "But I also think it's the uniform voice coming from the international community. There is almost no one aligning with North Korea on this nuclear program of theirs."

The secretary of state described the situation with Pyongyang right now as "overheated" after back-and-forth barbs between President Donald Trump and Kim Jong Un. Tillerson blamed North Korea for the rising tensions, saying that if it would stop testing missiles, that "would calm down things a lot."

Tillerson's comments and his visit to Beijing come after North Korea's foreign minister earlier this week accused the United States of declaring war.

The foreign minister was responding to Trump's threat at the United Nations last week to "totally destroy" North Korea if the U.S. has to defend itself or its allies from the regime.

"Our country has every right to make countermeasures," Foreign Minister Ri Yong Ho said Monday. He said those measures could include "shoot[ing] down United States strategic bombers, even when not inside the airspace border of our country."

The day after Ri's remarks, Trump restated his willingness to take military action against North Korea.

"We are totally prepared for [a military option]," Trump said at a press conference with Spanish Prime Minister Mariano Rajoy on Tuesday. "Not a preferred option, but if we take that option, it will be devastating."

Tillerson reiterated in Beijing Saturday that a nuclear-armed North Korea will never be acceptable to the U.S. and its allies.

"We have been clear publicly, the region has been clear publicly, that we are not going to accept a nuclear-armed North Korea," he said.

That difficult reality already exists, however, and it will be challenging to convince North Korea's leaders to change it. The U.S. calculated over the summer that Kim Jong Un's regime controlled as many as 60 nuclear weapons, according to an assessment by U.S. intelligence officials cited in a Washington Post report last month, although some independent experts think the number is far smaller.

As to the value of negotiating directly with North Korea, U.S. officials as well as America's allies have expressed different opinions.

While Tillerson says the U.S. is "directly" talking with the regime, both President Trump and Japanese Prime Minister Shinzo Abe have said now is not the time to engage with the Kim Jong Un's government. South Korean President Moon Jae-in meanwhile has remained open to such talks
ABC News' Morgan Winsor contributed to this story.