RonDoids
"Gettin' It On Your Mind"
Thursday, February 21, 2019
Rep. Alexandria Ocasio-Cortez trashed a prominent conservative group Wednesday night for erecting a billboard in New York City's Time Square criticizing the New York Democrat for running Amazon out of her state.
"Few things effectively communicate the power we've built in fighting dark money & anti-worker policies like billionaire-funded groups blowing tons of cash on wack billboards (this one is funded by the Mercers)," she tweeted, noting that the conservative group Job Creators Network funded the billboard. The group is tied to the Mercer Family Foundation.
Few things effectively communicate the power we've built in fighting dark money & anti-worker policies like billionaire-funded groups blowing tons of cash on wack billboards (this one is funded by the Mercers).

(Article Continues Below Advertisement)

(PS fact that it's in Times Sq tells you this isn't for/by NYers.)
Wednesday, February 20, 2019
It's been said the apple doesn't fall far from the tree.
Well not necessarily, sorta, cuz that tree may
still bear rotten apples just the same!
First let us take a look at papa Cuomo,
Mario Cuomo the
52nd Governor of
New York for three terms from 1983 to 1994
and was known for his liberal views, public speeches & BS.
He was also of Italian Ancestry which bore him the
description of an "Italian Mafioso Type"
by supposed rumors and by Bill Clinton. When it was thought Mario was going to jump into the Democratic primary for president Bill was heard in a phone conversation He was having with His then Goomada
Gennifer Flowers saying"Cuomo Acts Like A Real
Mafioso"
One thing that really irked the public was when Mario refused to enact the death penalty in NYS.
OK, Heez The Governor, His Decision!
He did wind up losing the following term to
George Pataki because of this stance!
Now let's take a look at Andy Boy Cuomo!
Looks like His dad, BS's like His dad and for most part agrees with His Dad's stance on capital punishment, they don't believe in killing murderers & killers who could one day kill again! Hmm, that is unless those to be killed are babies. Yup, you read it correctly, this dope proudly signed an Act that will allow a baby
be taken from the mother up to the last day
of birth and be terminated! What a DOPE!
he even stated "I hope other states will follow"
You Democrats better wake up & smell the Coffee!
Here's Cuomo enjoying the moment!
Heez the one always bashing President
Trump along with all his phony cohorts!
Maybe it's to draw attention away from
Here he is with his fake news cohort boyfriend!
I Dunno, like The Clintons & The Bushes
Ive had enuff of these Cuomo fools!
Also BOYCOTT these networks,
CBS, NBC, ABC, MSNBC, CNN,
You're not getting the real news!
Also be sure to see the Movie Gosnell which has been suppressed by the left winged media!
Labels: abortion, Cnn, Cuomo, death, fake, KILL, Lemon, Mario, MSNBC, Murder, News, term, trimester, TRUMP
Rondoids does not own the copyright to certain media posted within.Disclaimer Viewable on main page.
Ireland allows sale of contraceptives
In a highly controversial vote on February 20, 1985, the Irish government defies the powerful Catholic Church and approves the sale of contraceptives.
Up until 1979, Irish law prohibited the importation and sale of contraceptives. In a 1973 case, McGee v. The Attorney General, the Irish Supreme Court found that a constitutional right to marital privacy covered the use of contraceptives. Pressured by strong conservative forces in Irish society, particularly the Roman Catholic Church, the government was slow to change the law to reflect the court's decision, and a number of proposed bills failed before reaching the books.
In 1979, the Irish health minister, Charles Haughey, introduced a bill limiting the legal provision of contraceptives to "bona fide family planning purposes." Signed into law in November 1980, the Health (Family Planning) Act ensured that contraceptives could be sold by a registered pharmacist to customers with a valid medical prescription. Still, many people saw the law as too strict. Over the next several years, a movement began to make contraceptives more easily available, causing bitter divisions inside and outside of the Dail, Ireland's main house of Parliament.
As the government debated the changes, Catholic Church leaders railed against them, warning that increased access to contraceptives would encourage the moral decay of Ireland, leading to more illegitimate children and increased rates of abortion and venereal disease. On the eve of the vote in early 1985, the Dublin archbishop claimed the legislation would send Ireland down a "slippery slope of moral degradation." Some politicians were even threatened with violence if they voted for the legislation.
On February 20, 1985, a coalition of the Fine Gael and Labour parties led by Dr. Garret FitzGerald defeated the opposition of the conservative Fianna Fail party by an 83-80 vote. The new legislation made non-medical contraceptives (condoms and spermicides) available without prescriptions to people over 18 at pharmacies; it also allowed for the distribution of these contraceptives at doctors' offices, hospitals and family planning clinics. Though it was still illegal to advertise contraceptives and use of the birth control pill remained restricted, the vote marked a major turning point in Irish history–the first-ever defeat of the Catholic Church in a head-to-head battle with the government on social legislation.
(More Events on This Day in History)
GENERAL INTEREST
1986
Chunnel plans announced
Attempts to dig a channel tunnel between Britain and France date back to 1883, and Napoleon drew blueprints for a tunnel in 1802. Yet not until February 20, 1986, were France and Britain able to announce that a tunnel would soon become a reality. Trains, cars and buses would be ...
GENERAL INTEREST
1962
An American orbits earth
From Cape Canaveral, Florida, John Hershel Glenn Jr. is successfully launched into space aboard the Friendship 7 spacecraft on the first orbital flight by an American astronaut. Glenn, a lieutenant colonel in the U.S. Marine Corps, was among the seven men chosen by the National ...
GENERAL INTEREST
1725
American colonists practice scalping
In the American colonies, a posse of New Hampshire volunteers comes across a band of encamped Native Americans and takes 10 "scalps" in the first significant appropriation of this Native American practice by European colonists. The posse received a bounty of 100 pounds per scalp ...
WORLD WAR II
1942
Pilot O'Hare becomes first American WWII flying ace
On this day, Lt. Edward O'Hare takes off from the aircraft carrier Lexington in a raid against the Japanese position at Rabaul-and minutes later becomes America's first flying ace. In mid-February 1942, the Lexington sailed into the Coral Sea. Rabaul, a town at the very tip of ...
VIETNAM WAR
1968
Hearings begin on American policy in Vietnam
The U.S. Senate Foreign Relations Committee begins hearings to investigate American policy in Vietnam. This was a direct result of the Tet Offensive, in which Viet Cong forces, supported by large numbers of North Vietnamese troops, launched the largest and best-coordinated ...
SPORTS
1998
Tara Lipinski becomes youngest Olympic figure skating gold medalist
On February 20, 1998, 15-year-old Tara Lipinski wins the gold medal in women's figure skating at the Olympic Winter Games in Nagano, Japan, and becomes the youngest gold medalist in her sport. Lipinski donned her first pair of skates at age six. In 1994, at age 12, she won a gold ...
Tuesday, February 19, 2019
Long/short equity, value, contrarian, Growth
Apple's revenue is declining primarily because of lower iPhone sales in China.
Apple's forecast assumes sales will improve, especially once a trade deal has been reached.
Apple's guidance may prove to be overly optimistic due to iPhone competition in a saturated market.
Several factors could result in fiscal Q2 2019 falling short of expectations.
It's fair to say that Apple's (AAPL) stock price has gone through some turbulence in recent months. At one point in early October, the stock reached an all-time high of $233, at that point a roughly 35 percent gain for the year. The stock then began to decline, but the real drop began after Apple announced it would no longer report the number of iPhones sold after its earnings release.
The stock reached its low of $142 on Jan. 3 after announcing that revenue would come in lower than previously forecast. While the original forecast called for fiscal Q1 2019 revenue to be between $89 and $93 billion, the new forecast predicted that revenue would come in at $84 billion. Several reasons have since been given as to why sales has fallen off after growing by double digits in the previous quarters.
"We believe the economic environment in China has been further impacted by rising trade tensions with the United States. As the climate of mounting uncertainty weighed on financial markets, the effects appeared to reach consumers as well, with traffic to our retail stores and our channel partners in China declining as the quarter progressed."
Apple pointed to weakness in China as the main reason for disappointing sales of the iPhone. Trade war/conflict, a weakening Chinese economy and currency devaluation are just some of the factors cited for the big drop in Chinese sales. However, there's another potential reason as to why iPhone sales are not going as well as expected and that's the increased competition the iPhone has to go up against, especially in China.
Is falling sales revenue in China due to economic conditions or because of stiff competition?
It's true that sales of smartphones have declined in China. According to reports, smartphone sales in China fell by 10 percent in 2018. However, if the argument is that the Chinese economy is primarily to blame, then one would expect that companies with even greater exposure to China should face even greater difficulties than Apple. But that's not the case.
For instance, Huawei, arguably Apple's main competitor in China, derives more than half of its revenue from the Chinese market. It was according to IDC able to grow smartphone shipments in the fourth quarter of 2018 by 23 percent year over year (YoY) to 30 million units. So apparently some companies were able to prosper despite any economic headwinds. Apple itself underperformed because it saw an almost 20 percent drop year-over-year, double the rate of the overall market. This raises the question as to why some companies are able to sell their smartphones when others are not as successful.
| | | | | | |
| --- | --- | --- | --- | --- | --- |
| Company | Smartphones shipped 4Q2018 | Market share | Smartphones shipped Q42017 | Market share | YoY |
| Huawei | 30.0M | 29.0% | 24.3M | 21.3% | +23.3% |
| Oppo | 20.3M | 19.6% | 20.0M | 17.5% | +1.5% |
| Vivo | 19.4M | 18.8% | 18.9M | 16.5% | +3.1% |
| Apple | 11.8M | 11.5% | 14.8M | 12.9% | -19.9% |
| Xiaomi | 10.3M | 10.0% | 15.9M | 13.9% | -34.9% |
| Others | 11.5M | 11.1% | 20.4M | 17.9% | -44.4% |
| Total | 103.3M | 100% | 114.3M | 100% | -9.7% |
Apple may be underestimating the issues the iPhone is facing in China and elsewhere
How does one explain the divergence in fortunes? Tim Cook seems to be optimistic and suggests that Apple sales will recover once the trade war between China and the U.S. has been settled. This implies that the headwinds Apple is currently facing are temporary in nature and not something that could affect Apple long term. The market seems to have accepted Tim Cook's position if we look at how the stock has performed recently. The rally in the overall stock market also has helped.
"In the interview, Cook cast the trade-related economic weakness in China as "temporary," saying it was in both countries' 'best interests' to reach an agreement."
But what if this is not the case? Little attention has been given to the kind of competition that Apple is currently facing. What if the main reason that consumers in China and many other parts around the world are not picking the iPhone as often as before is because they feel that other smartphone options are a better choice?
Anecdotal evidence suggests that iPhones are increasingly not delivering what consumers really want
How do people decide which smartphone to buy? There's research that suggests that the two most important features consumers take into consideration when buying a smartphone are battery life and camera quality. Consumers in China, and indeed many other developing countries, tend to spend a lot of time on their smartphones for all sorts of stuff, including making payments. Imagine not being able to pay for a taxi or a drink because your phone is dead. So having a long lasting battery will play an important part in deciding which phone to go for. An iPhone which lags behind in this regard is not helping its case.
Anyone who likes to compare smartphones will probably have noticed that iPhones tend to come with significantly smaller batteries in comparison to other flagship smartphones. On the one hand, this does allow for a thinner smartphone, which Apple seems to like. On the other hand, a smartphone is more likely to run out of power before the day is over if its battery capacity is relatively low. This means reduced usability because a smartphone without power is not of much use. That's assuming you are not willing to go through the hassle of recharging during the day or carry a powerbank and so on for extra juice.
The justification given is that the iPhone and its processor in particular are more efficient with power and therefore require less battery capacity. Of course, one could argue that a bigger battery would greatly extend the amount of time spent using your phone. There would be much less need to worry about not being able to use your phone when you need it the most.
Apple could use their superior system-on-chip in combination with generous battery capacity to give the iPhone a competitive advantage over rivals. The iPhone would be known as a smartphone that lasts longer than anything else out there, which is a real practical benefit to many consumers. Unfortunately, Apple chooses not to. This could be seen as a big mistake on Apple's part.
Surveys indicate that iPhone competition is much better than most people believe
The subject of camera quality is a tricky one. What one person may find appealing in an image may not be the case with another person. It's subjective. With that said, there are signs out there that the iPhone is lagging in terms of its camera. For example, a blind test was conducted not too long ago by a popular YouTuber with millions of followers named Marques Brownlee. He wanted to determine which smartphones made the kind of photos that people found most appealing.
Basically, people were shown photos side by side and asked on social media (Instagram and Twitter) which was the best in their opinion. Sixteen different smartphones participated, but people were not told which photos belonged to which smartphones. This was done to eliminate any preconceived bias. The final results of the survey were surprising to many, including Marques Brownlee. The video below reveals the results of the blind test.
The biggest surprise was probably the fact that the iPhone X was eliminated in the first round by the Pocophone. The latter is a smartphone made by Xiaomi for developing countries where people want as much as they can get for their money, India in particular. Note that the Pocophone is a $300 smartphone whereas the iPhone X retailed for $1,000 (at launch). Yet despite the huge difference in price, people found photos taken by the much cheaper Pocophone to be better than the ones taken by the much more expensive iPhone X.
Another noteworthy fact is the elimination of the Google Pixel 3 in the first round. The camera and related software app of the Pixel 3 is considered by many to be the best in class. But surprisingly, people surveyed thought differently and photos made by the Huawei P20 Pro were judged to be better than the Pixel 3.
Ultimately, the Huawei Mate 20 Pro won in the finals where it beat the previously mentioned Pocophone, which came in at second place. Also worth mentioning is that Marques Brownlee singled out the Huawei Mate 20 Pro for its very good battery life, which as previously mentioned is one of, if not the most important factor, for people when it comes to deciding which smartphone to buy. According to him, the Huawei Mate 20 Pro lasted longer than any other smartphone he has ever tested.
I do not want to attach too much weight to the results of one blind test. Marques Brownlee himself thought of the Google Pixel 3 as the smartphone with the best camera before the competition and the results of his survey did not change his personal opinion. He did give a possible explanation as to why favorites such as the Apple iPhone and Google Pixel did not perform as well as initially expected.
However, the results of the survey do align with my own personal experience. I personally find photos from the Samsung Galaxy to be more visually appealing to the naked eye than the ones taken by the iPhone XS. It's a matter of opinion, but I know many other people who feel the same way. Take it for what it's worth.
Should the consumer have the final say as to what is best in their smartphone or the manufacturer?
Some might argue that the iPhone is still better and cite various technical parameters such as low noise or accurate color reproduction. My argument would be that the only thing that really matters is the eye test. If someone feels that a certain smartphone takes photos the way they want them to, then that's all that matters. That's the phone they will go for and not the one which may have all the specs, but doesn't quite look as good to the eye.
In the end, the Huawei Mate 20 Pro did best in the two areas that matter the most to the average buyer of a smartphone, the camera and battery life. It seems Huawei has listened to what the consumer wants and taken upon itself to design a phone that answers the practical needs of a consumer as best as possible, something that cannot be said of every manufacturer. The fact that Huawei is growing sales as fast as they are should be seen in that light.
Why China was the culprit in Q1 2019 and why it could be an even bigger one in Q2 2019
The holiday quarter (fiscal Q1 2019) recorded a year-over-year decline in Apple revenue and guidance for Q2 2019 suggests revenue will be between $55 and $59 billion. At the midpoint of $57 billion, revenue will have declined by minus 6.7% YoY. That means sequential quarterly YoY revenue declines for Apple.
The numbers in the table below show that China was primarily responsible for the shortfall in Apple's revenue. The forecast for Q1 2019 called for revenue to between $89 and $93 billion, but actually came in at $84.3B. If China had just matched its sales figure from the year before ($17.9B) and come in at $4.8 billion higher instead of $13.1B, Apple would have beaten the high end of its original forecast for the quarter at $93.1 billion.
| | | | | | | | | |
| --- | --- | --- | --- | --- | --- | --- | --- | --- |
| Quarter | Total Revenue | YoY | Americas | Europe | Greater China | Japan | Asia | iPhone Units |
| Q1 2019 | $84.3B | -4.5% | $36.9B | $20.3B | $13.1B | $6.9B | $6.9B | N/A |
| Q4 2018 | $62.9B | +19.6% | $27.5B | $15.3B | $11.4B | $5.1B | $3.4B | 46.9M |
| Q3 2018 | $53.3B | +17.4% | $24.5B | $12.1B | $9.5B | $3.8B | $3.1B | 41.3M |
| Q2 2018 | $61.1B | +15.5% | $24.8B | $13.8B | $13.0B | $5.4B | $3.9B | 52.2M |
| Q1 2018 | $88.3B | +12.7% | $35.1B | $21.0B | $17.9B | $7.2B | $6.8B | 77.3M |
| Q4 2017 | $52.5B | +12% | $23.0B | $13.0B | $9.8B | $3.8B | $2.8B | 46.6M |
| Q3 2017 | $45.5B | +7% | $20.3B | $10.6B | $8.0B | $3.6B | $2.7B | 41.0M |
| Q2 2017 | $52.8B | +5% | $21.1B | $12.7B | $10.7B | $4.4B | $3.7B | 50.7M |
| Q1 2017 | $78.3B | +3% | $31.9B | $18.5B | $16.2B | $5.7B | $5.8B | 78.2M |
The numbers also show that the revenue boost Apple received from raising their prices of the iPhone has come to an end. Further price hikes to boost revenue once again are not likely, especially with competition heating up and the smartphone market saturated. If anything, Apple may have to lower prices much more than they may be willing to in order to compete, which will hit both the top and bottom line.
On a more positive note, Apple's other revenue streams continue to do well. There are some who believe that other areas can make up for the iPhone, but there are doubts on that front. The iPhone still accounts for 61.7% of revenue. This percentage also is somewhat of an understatement as to the iPhone's importance because it's the primary means through which people are brought into the Apple ecosystem. If shipments of iPhones continue to go down, then the installed base of iPhones worldwide will eventually go down as well. Revenue coming in from the Appstore, Apple Care and various accessories also will be impacted.
| | | |
| --- | --- | --- |
| Segment | Revenue | YoY |
| iPhone | $52.0B | -15% |
| Mac | $7.4B | +9% |
| Wearables, Home and Accessories | $7.3B | +33% |
| iPad | $6.7B | +17% |
| Services | $10.9B | +19% |
Why Apple may have to revise guidance downward once again
The second quarter (fiscal Q2 2019) happens to be one where the Greater China market tends to become more important for Apple due to the timing of the Lunar New Year celebration. Because of this, China's contribution to Apple's overall revenue is greater in Q2 in comparison to other quarters. In Q2 2018, China contributed 21.3% of total revenue. A poorly performing Chinese market could therefore have an even greater impact on Apple in Q2 than would normally be the case.
Apple's high-end of guidance for Q2 2019 calls for just a $2.1 billion decline from $61.1B to $59 billion. This guidance implies that Apple expects that either China will improve or that other regions will be able to pick up the slack and make up for China. If, for instance, we extrapolate Q1 2019 China revenue decline of 26.8% YoY and assume that Q2 2019 suffers a similar drop, then Chinese revenue for Q2 would come in at $9.5B or $3.5B less than the year before. This number alone would exceed the $2.1B decline Apple is expecting in total.
However, the results for Q1 2019 show that three of the four major Apple markets (Europe, China and Japan) are in decline. Only the U.S. is showing any real growth. The onus will be on the U.S. if Apple is to beat, but it's doubtful if this is realistic to expect. The first quarter of the year tends to be weak in the U.S. in terms of growth. Factors such as the government shutdown, weather conditions like the polar vortex, lower than expected tax refunds and weakening retail sales are unlikely to help. Fact is that all four major Apple markets are slowing and that's not good news for Apple.
Apple: Is the glass
half empty
or half full?
Short term, Apple will have to deal with significant headwinds with stiff competition. Some might argue that Apple has dealt with this before in the form of Samsung (OTC:SSNLF), but I would argue that the current competition is unlike anything seen before. Both in terms of depth with some flagship phones now selling at midrange prices and variety with Samsung joined by Google (NASDAQ:GOOG) (NASDAQ:GOOGL), Huawei, Oppo, Oneplus, Xiaomi (XI) and so on.
Longer term, Apple may be able to reduce its reliance on the iPhone by coming up with a new product that generates revenue similar to the iPhone. Apple does have a history of innovation and there's no reason why it cannot do it again. However, this is unlikely to happen for the next several quarters. Currently, its non-iPhone business can mitigate to a certain extent, but not completely compensate for iPhone weakness.
With that said, Apple's guidance forecast is too optimistic in my opinion. Public statements from Apple imply that its falling revenue is mostly due to transitory factors that will be resolved. It doesn't seem to acknowledge competition to its primary revenue stream that's getting better at a time when the smartphone market is not doing as well as it once did.
The reality is that even if the trade dispute passes, competition will still be there. The core issue pushing Apple's revenue down looks to be more structural in kind, a product whose competitiveness is declining vs. competitors. This is more worrying than if the problem was caused by some temporary issue such as a trade war/conflict.
Apple seems to rely heavily on its brand name for iPhone purchases when surveys show that other factors carry more weight with consumers. Apple expects people to pay a premium for its current lineup of smartphones even though competing products are every bit as good, if not better, and often cheaper to boot.
Apple seems to be misreading or underestimating the core reason causing the revenue decline. If this is correct, then Apple's revenue is likely to continue to disappoint due to the lack of effective countermeasures that address the real issues to stem the decline, which will pressure the stock. Fiscal Q2 2019 looks to reaffirm the trend that began in Q1. Coupled with the fact that the stock has gone up by almost 20 percent in roughly six weeks, helped by positive news on the trade front and a dovish Fed, Apple looks like a stock where the risk is to the downside. Some upside exists, but with a lot more downside risk. Buyer beware.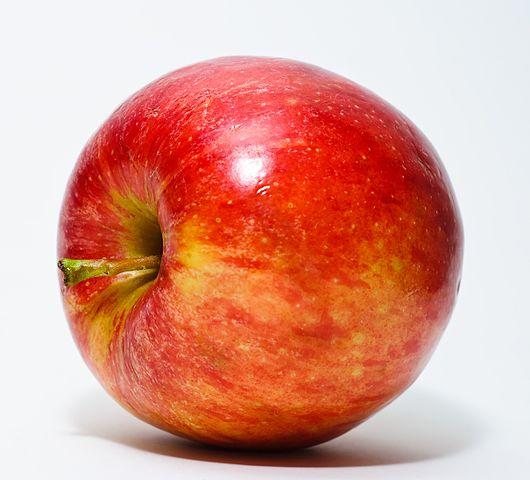 I/we have no positions in any stocks mentioned, and no plans to initiate any positions within the next 72 hours.
I wrote this article myself, and it expresses my own opinions. I am not receiving compensation for it (other than from Seeking Alpha). I have no business relationship with any company whose stock is mentioned in this
article.
OUR VALENTINE'S DAY ROBBERY, 1991
That was the day of the strong arm robbery.
We were playing in Jacksonville Florida,
and Misty wanted to go and buy a red blouse for Valentine's Day.
She was already wearing a very nice red blouse,
but I kept my mouth shut.
We drove to a Pic 'n' Save store on Dunn Avenue.
I dropped her off near the door and drove to the nearest parking slot.
As I was locking the car door I heard a woman scream.
I had never heard Misty scream,
but the sound came from where she ought to be... by the door.
I started toward the building
and saw a big guy running from the door area,
from right to left across the front of the building,
and carrying a woman's purse.
He was going about 35 mph
when he saw me running directly at him.
We crashed head on and I knocked him across a bunch of shopping carts.
I spun around, flew a few feet,
and landed on the point of my index finger, like an acrobat.
The finger bent into an "L", and I did a neat landing on my face.
People in the parking lot closed in,
held the guy down and called the police,
while I looked for my glasses and bled from a variety of places.
He had been running toward the high chain link fence
where he was to throw the purse to his brother,
who was waiting on the other side.
The cops told us that if he hadn't taken at least $400
they couldn't send him away, wink, wink.
Funny, that's the exact amount we reported.
Meanwhile, Misty, who was also hurt
from being knocked to the ground by a blow to the ear,
was helping me into the store to get assistance.
Something had gone wrong with my leg and I couldn't walk.
The pharmacist said he couldn't help
because it would be admitting liability.
I'm leaning on Misty with broken glasses,
an injured leg, a bent finger, and bleeding like a lawn sprinkler.
I reached across the counter,
grabbed the pencil out of his pocket,
pushed him aside, took some tape from a shelf,
and made a rough splint for my finger.
The next day we went to a walk-in medical clinic
where the doctor put a splint on my finger backwards,
Later I turned it around.
I was on crutches for a couple of months
and the crook went to jail.
We sued the store and came out of it with a nice used car.
Since then I don't forget Valentines Day the way I used to.
Jack Blanchard